THe ultimate percussion pad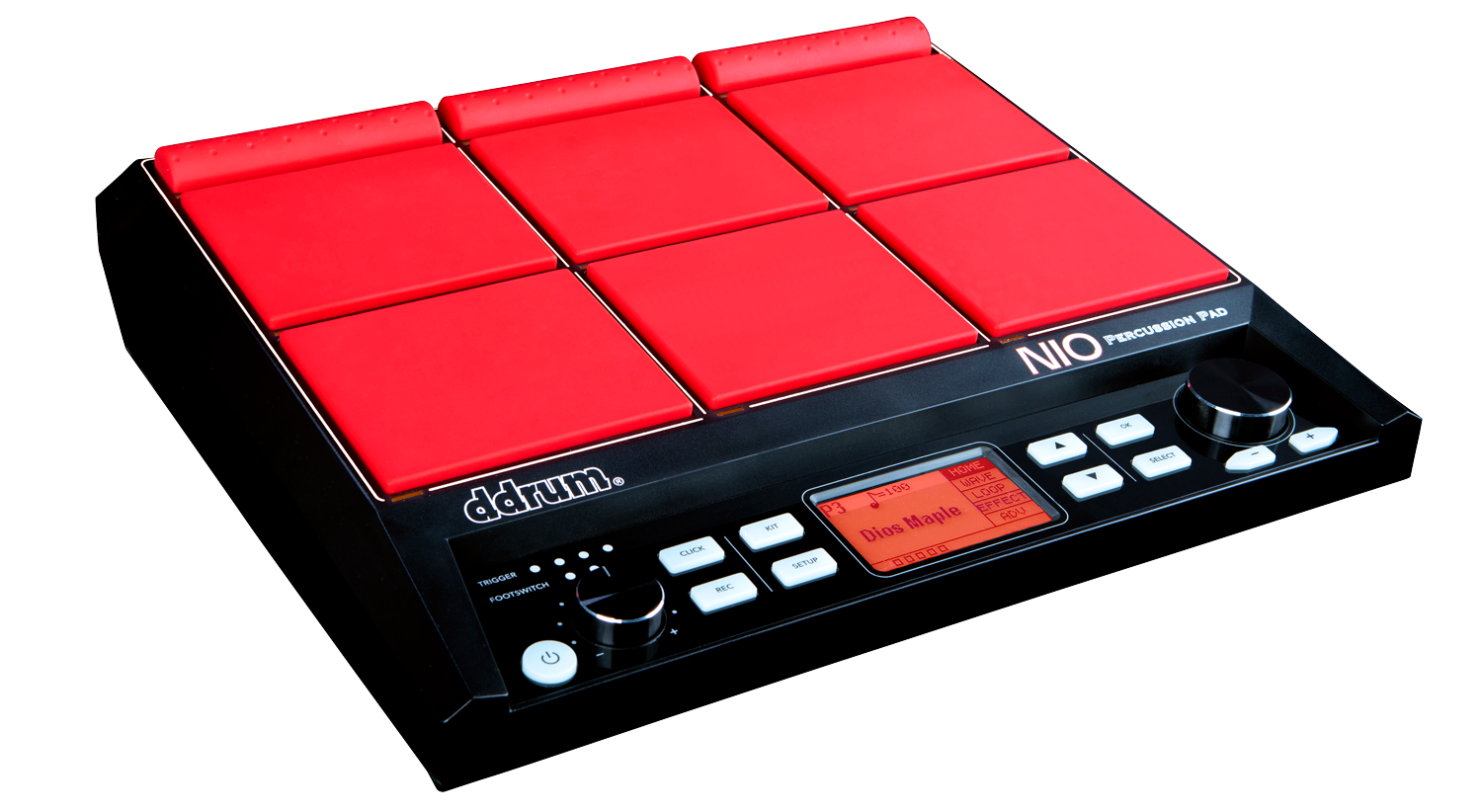 ddrum introduces the NIO Electronic Percussion Pad with the capabilities of a fully functioning electronic drum kit. With a broad surface of responsive pads, endless percussive options, and ample connectivity, the NIO is the ultimate addition to your acoustic or electronic kits. Use it for at-home practice, live performances and even studio sessions.
With the NIO Electronic Percussion Pad, you have endless options to level-up your percussive creativity. The NIO is designed with nine isolated rubber pads and comes pre-loaded with 30 preset kits, including five ddrum series kits; 20 user kits; and hundreds of built in sounds. Additionally, you have the option to utilize 512 MB of storage for loading your own sample drum kits, sounds, or loops via USB (Type-B) output.
To further broaden your creative possibilities, the NIO has two built-in trigger inputs enabling you to utilize external drum triggers or pads. Foot switch inputs allow the NIO to become a fully functional electronic kit, providing a great practice option in limited spaces or when you're traveling.
The front panel controls on the NIO are simple and streamlined. Two dials, one on each side of the panel, allow for volume control as well as fast toggling through kits and sounds. A center digital screen shows menu options with adjacent toggle and selection buttons. Click and Record buttons allow you to practice with a metronome and save your own creations. A quarter-inch headphone output enables private practice while quarter-inch stereo outputs L/R with volume control allow you to hook up to an external speaker or PA system. Additionally, the 1/8-inch stereo Aux input allows audio in, so you can play along to your favorite tunes.
Whether used for experimenting with samples and loops or finding that perfect sound in a mix for a live performance or studio recording, the NIO Electronic Percussion Pad from ddrum delivers you a durable design, easy-to-use functionality, and professional-grade components.
• 9 Isolated Rubber Pads
• 2 Dual Trigger Inputs
• 2 Switch Pedal Inputs
• 1/4 Headphone Output 
• 1/4 Stereo outputs L/R with Volume Control
• 1/8 Stereo Aux Input
• USB Output (USB – B port)
• 5 Pin MIDI IN & OUT
• 30 Preset Kits (5 are ddrum series kits)
• 20 User kits
• 608 Total Sounds
• 512MB of Storage for Loading Sounds or Loops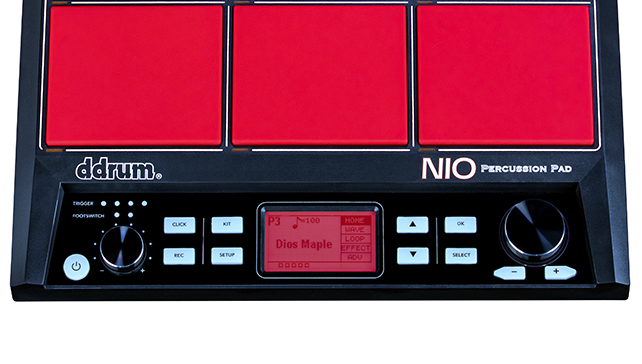 The NIO's user-friendly controls and interface make it easy for the user to maneuver through all the presets, sounds and functions. The glow in the dark buttons adds a nice touch to the NIO especially in live situations. With all the necessary USB connections, the NIO comes in handy for any studio situations as well.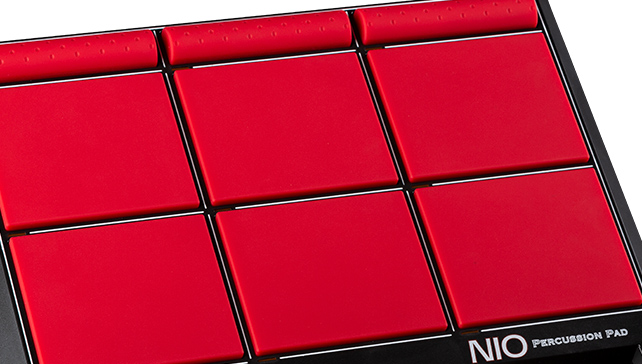 The NIO includes 9 red isolated rubber pads for triggering sounds or loops. In fact, "NIO" comes from the Swedish term meaning "nine" which not only references the nine pads on the NIO, but the term references ddrum origins from Sweden.
The red vibrant pads not only look attractive but make it easy to play even on the darkest stages. Utilize the layering function to double up sounds on each of the nine pads makes the NIO a value asset on any drummer's setup.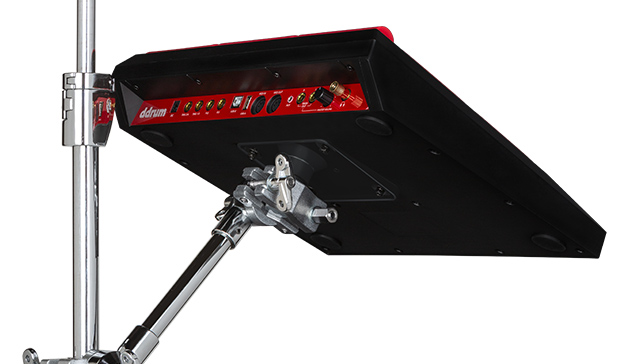 Incorporate the NIO into any percussion setup using the NIO mounting post. Whether it's an acoustic setup or adding to an existing electronic setup, this accessory will help position the NIO right where the player needs it. This mounting post can be used with any ddrum clamp or most popular branded clamps.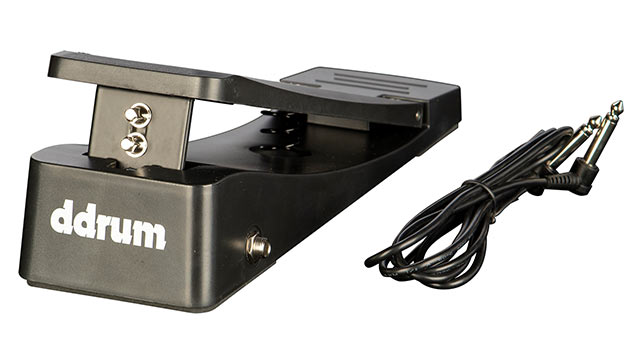 Turn the NIO percussion pad into a full functioning electronic kit by utilizing the foot pedal controllers. Two inputs on the NIO allow the player access hi hat and bass drum sound with the NIO foot pedal controller. This pedal can also be used to fine tune a performance by enabling the player to scroll presets on the fly.